Are you looking for a live performance of movie soundtracks, to enjoy all the vibrations of an acoustic quartet and so re-experiencing the wonderful sensations that specific movie left you?
Is it a classical cartoon movie, a heart-breaking love song or an adrenaline action one? Everyone has at heart one or more movies, usually linked to a pleasant moment of youth. We know, movies wouldn't be the same without a distinctive soundtrack: try to imagine Titanic without the well-known theme, or the very beginning notes of the Godfather. Unforgettable melodies, maybe very connected to the worldwide success of the films they accompanied.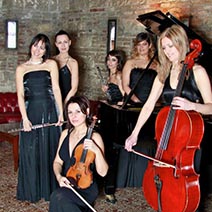 Movie themes and OST live performance
Nino Rota Ensemble is a Movie soundtracks' italian live performers group made of four amazing women. They have been awarded in national and international contests, attending continuous courses with famous Maestros all over the world.
Now they collaborate with some of the best Italian orchestras, playing an amazing repertoire coming from the genius of Italian Maestros: from Nino Rota to Ennio Morricone and again Stelvio Cipriani and Nicola Piovani. Looking at foreign extraordinary composers, the repertoire sees pieces of George Gershwin, Leonard Bernstein, Max Steiner, Luis Bacalov, Mikael Tariverdiev and other ones.
But not only covers: the quartet uses to play also original arrangements written by Deborah Vico, pianist and first founder of the Ensemble.
Italian and proudly to be Italian, the Nino Rota quartet also represented this country during the celebrations of centenary of Giuseppe Verdi's death in 2001: the event has been held in Sao Paolo, in Brazil, at the Teatro Municipal, collaborating with many prestigious personalities of Italian lyric Opera, such as Cecilia Gasdia, Pietro Ballo, Giorgio Merighi and Fiorenza Cassotto.
Listen and feel on your skin the Nino Rota Ensemble live performances: we are sure our notes will win you all over!