Who says Music is just a male affair? Even though we are used to imagine it as a men's world, that is not so true: women are excellent singers and musicians, just like Nino Rota Ensemble: it is an Italian Female Quartet made of professionals.
Voice, Violin, Flute and Piano give life to infinite arrangements and possibilities to perform even the same piece. Have you ever listened to our Gabriel's Oboe version or to the New York, New York one? Our musical instruments and our voice can turn them into something new every time.
Give a glance to our musical programs and find out our pieces. Have you already seen the program of the Nino Rota tribute concert? As an example, this repertoire includes Romeo and Juliet, The Godfather Suite, The Leopard, Amarcord, La Dolce Vita, Cabiria's Nights, La Strada and many others. Masterpieces of Cinema, but also part of Music history.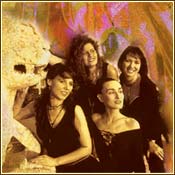 Italian female live music group
And if you are thinking the Ensemble is "too much" for your personal event, you don't have to be scared: our Italian Female Live Music Group can perform at your private party or wedding. We believe it is going to be even more unforgettable. We use to travel all over the world to perform our pieces: Sweden, Portugal, Morocco, Egypt, Germany, Cyprus, Latvia, Poland Croatia and many other places, so we can reach you even if you are not in Italy.
Have you ever thought to the most popular movie soundtracks to astonish your private event guests? Imagine a theme party for your birthday or wedding day based on a peculiar movie, just like La Dolce Vita, The Leopard or The Godfather: good live music played by professional musicians.
Finally, Music linked to Films is generally very appreciated, it doesn't matter the age, the area of the world, even the culture: the reason why is that soundtracks can evoke deep emotions and sensations in a while. Even a simple theme made of a few notes can lead us to a particular feeling we experienced before. Not only: the simplest note combination too is created to be kept in mind. As an example, think about Forrest Gump's theme, the Titanic one or the Once upon a time in the west one. Didn't you sing them under your breath while having a shower?
That is success, in the end: the capability of being remembered and to bring the audience back to a particular sensation.