Classical Music is appreciated all over the world for its unique and univocal language: and even though it concerns pieces dated back to centuries ago, it manages to be modern, familiar and identified in the same way even by different people, belonging to different cultures.
This communication power is what fills up theatres, arenas and stadiums all over the world from decades to the present days.
The Nino Rota Ensemble knows perfectly this power: being also a Classical music Italian female group it had the chance to experience how classical music raises passion and enthusiasm in the oldest people as well as in the youngest ones. And one of the most important features of this genre is its versatility: covers like "Everything's gonna be alright" by Sweetbox uses the "Air on the G String" by Johann Sebastian Bach as a main theme. The more recent "Party like a Russian", performed by Robbie Williams, has been composed borrowing a piece from "Montagues and Capulets" by the Russian Composer Sergei Prokoviev. The list could be actually longer than that.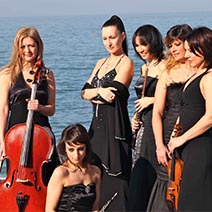 Classical music Italian female quartet
This Classical music Italian female quartet made a very interesting experiment in the past years: thanks to the collaboration with Luca Colombo, excellent guitarist and first guitar of the Sanremo Festival from 2007, the Nino Rota Ensemble created a repertoire mixing pop and rock to classical and lyric pieces.
The result is a perfect fusion between electric sounds and the vibrations of classic instruments, so giving a new life to traditional tracks by Mozart, Rossini, Verdi, Puccini, but also Morricone, Rota and Piovani. This project was born as a natural consequence of an extraordinary concert that Luca performed playing "Nessun Dorma" from Turandot at the Arena of Verona: his electric guitar raised curiosity and sure approval among audience and critics from all over the world.
The lucky meeting with Luca Colombo happened almost by chance, when some years ago, during an event, they all played together some soundtracks themes like "Once upon a time in the West" or "A fistful of dynamite". From that day on, a new musical program has been created and it has filled up dozens of Italian theatres.
Now the Classic in Pop Musical program is one of the most appreciated of the Nino Rota Ensemble repertoire: not only in Italy, but also beyond national borders, as the demonstration that Classical Music is alive and still healthy!