Nino Rota Ensemble is a fabulous quartet of women: Rosa Sorice, voice. Angela Benelli, violin. Federica Torbidoni, flute. Deborah Vico, piano. They are all professional musicians but above all passionate of Music and Cinema soundtracks. And even if a voice and three instruments might seem a small and equipment to reproduce the magic atmospheres of biggest orchestras, the answer is in the success the Ensemble collected during the past decades. From the very first concert in Ancona, they suddenly played in Stockholm, then Lisbon, Il Cairo and so on. Repertoire includes classical tracks, but it is constantly updated with new movie productions.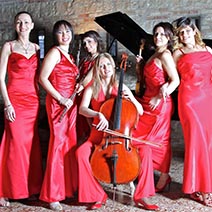 Luxury events, Yatch Parties and Corporate events live concerts
The name of this Live performing Italian women group is yet a tribute to one of the greatest composers of all the times. Their competence, acquired also working together with the most important Maestros, is always devoted to covers, arrangements and original pieces coming from soundtracks.
Their Italian origin is may be not a coincidence, since Film tradition and Music composition are so settled in Italy, but also well-known all over the world. Italy is remembered as a homeland of major Directors, Films and Musicians.
And even if it's not about Filmmaking, Giuseppe Verdi is an icon of Italy and the Music world: Nino Rota Ensemble dedicated a complete program for the bicentenary of this extraordinary personality, taking inspiration from the most popular compositions for sopranos and tenors of the exceptional compositor.
As an example, the program includes some opera airs from the Aida, the Rigoletto, the Trovatore and the Otello: La Donna è Mobile, Tacea La Notte Placida, Celeste Aida, Libiam ne' Lieti Calici are just a few masterpieces of the entire program.
It's not a chance if Giuseppe Verdi is, together with Giacomo Puccini, the most represented artist in the world.
Call us and follow us: Nino Rota Ensemble is italian music culture!
We can perform at corporate events but also in luxury evens and yatch parties!