Are you looking for something amazing and extraordinary to let your private party sparkle like never before? Do you think a live performance will turn your event into something astonishing?
We think you are right! Nino Rota Ensemble is an Italian female group for live performances: a voice, a violin, a piano and a flute will reproduce a wonderful repertoire coming from the best movie soundtracks ever. Professional musicians who had the possibilities to learn and work next to the most eminent Maestros of the world can reach you to sing and play the pieces you pick up. We can also build a personal suite, if you prefer, collecting all the tracks you select for your unforgettable wedding, birthday or theme party.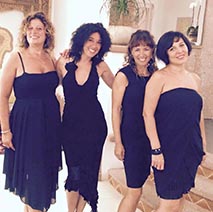 Italian female group for live performances
Among our Musical Programs there is also a tribute to the fantastic Walt Disney world, with a collection of tracks belonging to the most popular movies: Sleeping Beauty, Cinderella, Snow White and the Seven Dwarfs, The Lion King, Lady and the Tramp, Beauty and the Beast, Mulan, The Little Mermaid, Mary Poppins and many others. Our Italian female quartet for live performances is the perfect solution, because we are very familiar to this magic world and we can reproduce it for you.
Our Walt Disney program includes very popular tracks, often in the heart of the youngest and the oldest ones: the Walzer of the Sleeping Beauty, A dream is a Wish and Bibbidi Bobbidi Boo from Cinderella, Whistle while you work from Snow White and the Seven Dwarfs, The Circle of Life from The Lion King, Reflection from Mulan, Part of your world from The Little Mermaid, the Beauty and The Beast Theme, Let it go from Frozen: from the most classical tracks to the latest ones, everyone has whistled one of them once in a lifetime!
This Italian quartet was born in 1995 and in these last years it had the possibility and honor to perform during many prestigious occasions, like different National and International Cinema Festivals and Events, in the presence of some eminent personalities of this world: Ennio Morricone, Ettore Scola, Marco Bellocchio are just some of the Directors and Composers we could met. The Nino Rota Ensemble has a peculiar vocation for good quality music and Filmmaking world: the name it chose is the perfect summary of this fantastic tale lasting more than 20 years.