Music and Cinema worlds are strictly connected and that is the keystone of the Nino Rota Ensemble: a quartet, an acoustic group which is completely dealing with these two magic worlds.
It is not by chance that the Nino Rota Ensemble was born in 1995, just in honor of the birth of Cinema, a hundred years before. A tribute to this incredible factory made by a female quartet of musicians: the voice, the violin, the flute and the piano, to perform live unbelievable pieces from movie soundtracks.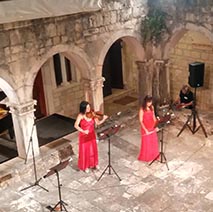 Movie themes and cinema music
So, if you want to listen to Cinema music by Italian live performers, you are exactly in the right place: our fabulous women quartet is an awarded group which could have the possibility to play all over the world during the inauguration of many important International Cinematographic Festivals, just like the ones in Salonicco, Annecy, Stockholm and Luxemburg.
Talking about awards, in 2008 the Ensemble won the Premio Sonora with the CD named Giulietta. Thanks to an extraordinary creation, this tribute to Italian actress Giulietta Masina was the Best Recording prize worth.
That is not by coincidence if the CD was dedicated to such an amazing actress like Giuletta Masina: according to the Nino Rota quartet, it is impossible to make a separation between Cinema and Music.
Italy is certainly an important scene for both Filmmaking industry and the Composition one: our Maestros are well-known in the whole world, from the postwar period to the 2000s.
It is enough to think about extraordinary Directors like Federico Fellini, Franco Zeffirelli, Luchino Visconti, or, more recently, Giuseppe Tornatore, Roberto Benigni and Paolo Sorrentino. Next to all of them great composers found success also beyond our borders, like the legendary Ennio Morricone and Nino Rota himself.
Nino Rota Ensemble is the perfect summary of these souls: Italy, Movies and Music, above all.