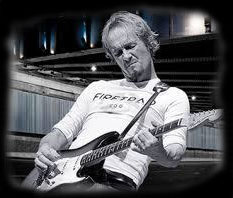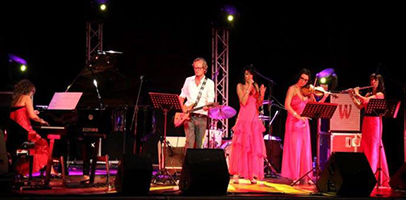 Luca Colombo
& Nino Rota Ensemble
"CLASSIC in POP"
Highly evocative vibes created by the skilled fusion of the guitar's electric sound with the intens expression and soul's rapture of the classic traditional instruments. POP and ROCK genres step together in the sacred world of the classic and liric's music, aiming to give to the most traditional repertoire a complete innovative, original and fascinating new guise. The unique masterpieces of Mozart, Rossini, Verdi, Puccini and then Morricone, Rota, Piovani, Williams and many others are enchanced and revive under a new powerful atmosphere thanks to this merge of different arts. This successfull project is a natural continuation of Luca Colombo's experience at the Verona's Arena with the Sanremo Orchestra where he played "Nessun dorma" from Puccini's Turandot with his electric guitar, creating an immediate curiosity and approval from the international critics and an enthusiastic reaction from the many liric's music fans. The concert was also broadcasted on RAI 1. The collaboration with Nino Rota Ensemble, a group of women artists from "The Marche" in Italy who has been performing for 20 years in Italy and all over the world, happens by chance some years ago during an important show where the artist Luca Colombo played some famous movie soundtracks alongside the Nino Rota Ensamble, such as "Nuovo Cinema Paradiso", "Duck you sucker", "Once upon a time in the west" etc. From then on the artists have been playing this captivating and enchanting repertoire in dozens of italian theatres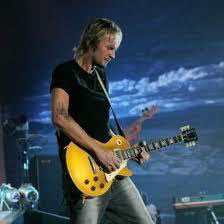 LUCA COLOMBO is first guitar of Sanremo's orchestra. Guitar player, teacher and arranger he has worked together a long array of artists amongst the best of the italian and international musical scene; he has recorded 2 CD as soloist and worked to several educational projects, official italian endorser for Vox Amps, Corde Ernie Ball, acustic guitars Yamaha, Wampler pedals.
He has collaborated on stage with Gloria Gaynor, Franco Battiato, Fiorello, Renato Zero.
He has composed and played the sound track of the movie "Sottovento" starring Claudio Amendola and Anna Valle and has partecipated to the making of records and home videos of famous italian artists such as Adriano Celentano, Fiorello, Alessandra Amoroso, Antonella Ruggiero, Umberto Tozzi, Irene Grandi and many others). He has taken part to a great many television broadcastings also playing an important role in prominent italian shows such as Sanremo's festival, "Buona Domenica", "Sabato Italiano", "Maurizio Costanzo Show", "Un disco per l'estate", "Fiorello Show", "Passaparola", "Rockpolitik", "50 Canzonissime", "Io canto" under the orchestral's direction of Pinuccio Pirazzoli, Pippo Caruso, Peppe Vessicchio, Demo Morselli, Fio Zanotti, Celso Valli ecc. Luca has been the artistic collaborator in "Live tour" of Eros Ramazzotti, Nek, Max Pezzali, Mango, Anna Oxa, Antonella Ruggiero, Umberto Tozzi, Toto Cutugno, Gatto Panceri, Franz Di Cioccio, Loredana Bertè. He has worked to the making of the sound tracks of many advertising campaign, among them Volvo, Bauli, Ferrero, Plasmon, Superga, Enel, etc. …, and several sigle, basi e sottofondi musicali per Canale 5, Italia 1,Rete 4.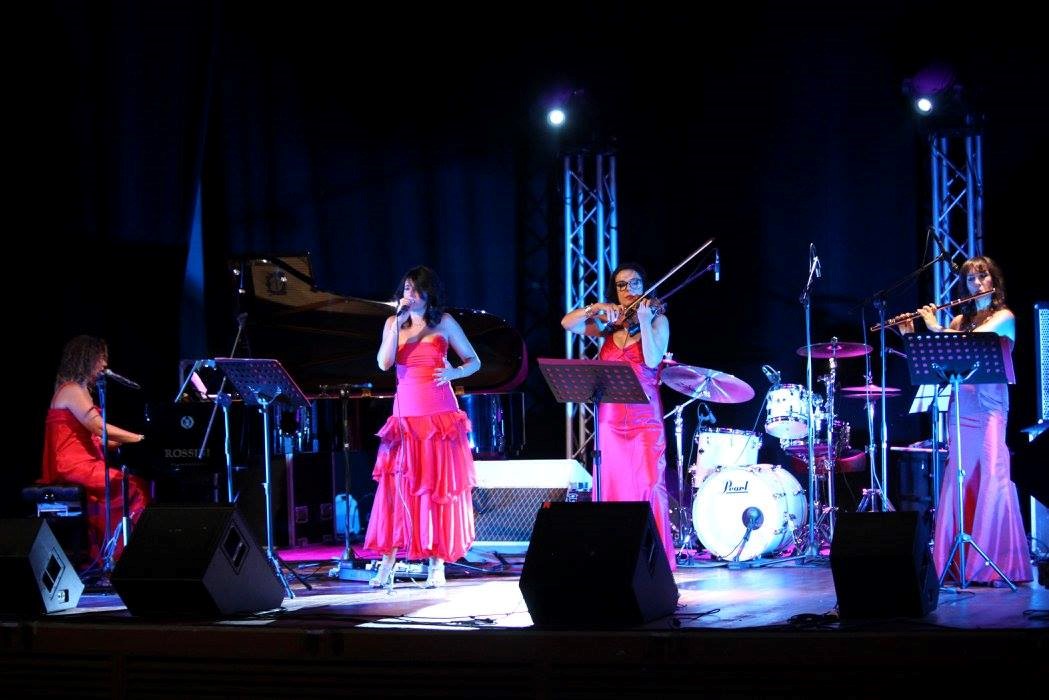 The NINO ROTA ENSEMBLE founded in 1995, in honor of 100 years of Cinema, is an all woman group composed of musicians united by the same passion for music and cinema. They are a quartet comprising voice, flute, violin and piano. Since its foundation, the group has carried out an intense program of concerts, making a name for itself both for its ability and originality in Europe and in many countries abroad with performances in the most prestigious theatres in Sweden (Stockholm, Vaestros), Portugal (Lisbon, Coimbra), Egypt (Cairo, Alexandria), Germany (Munich of Bavaria), France (Annecy, Lille and Arras), Croatia (Zagreb, Split), Greece (Patras, Rodi, Salonicco), Turkey (Istanbul, Ankara, Izmir), Azerbaijan (Baku), Taiwan (Taipei and other ten cities), Brazil (Sao Paulo, Belo Horizonte, Juiz del Fora, Rio de Janeiro), Tunisia (Cartagine), Morocco (Casablanca), Cyprus (Limassol, Nicosia, Pathos, Bellapais, Famagosta), Lebanon, Libya and Syria (Beirut, Tripoli, Damascus), Luxemburg (Luxemburg), Latvia (Riga), Indonesia (Jakarta), Nigeria, Polonia (Warsaw) and Kazakhstan (Astana). Among the numerous performances held by the Ensemble all over the world, particular emphasis must be given to the concerts performed during the inauguration of the International Cinematographic Festivals, such as those in Salonicco, Annecy, Villerupt, Stockholm and Luxemburg. The musicians comprising the Ensemble are winners of national and international contests, have frequented specialization courses and seminars with the most celebrated international Maestros, and are renowned and appreciated soloists in various chamber music formations steadily collaborating with the best Italian orchestras. The Nino Rota Ensemble present an extraordinary repertoire, performing the most celebrated compositions of greatest Italian and foreign Maestros such as Nino Rota, Ennio Morricone, Stelvio Cipriani, Riz Ortolani, Nicola Piovani, George Gershwin, Leonard Bernstein, Max Steiner, Luis Bacalov, Mikael Tariverdiev and others, as well as original arrangements written by the pianist Deborah Vico, founder of the group, who adapted this wonderful repertoire to the Ensemble. On occasion of the centenary celebration of the death of Giuseppe Verdi in 2001, the Nino Rota Ensemble undertook a series of concerts, representing Italy, at the prestigious Teatro Municipal (Municipal Theatre) of Sao Paolo Brazil in collaboration with some of the most celebrated names in Italian lyric opera like Cecilia Gasdia, Pietro Ballo, Giorgio Merighi and Fiorenza Cossotto.
In 2008 the Nino Rota Ensemble won the "Premio Sonora" (Sonora Prize) for the best recording, thanks to the CD called "Giulietta" dedicated to the famous Italian actress Giulietta Masina.
Recently the Ensemble performed in many events linked to Cinema in the presence of famous directors and composers like Ennio Morricone, Stelvio Cipriani, Ettore Scola, Francesco Rosi and Marco Bellocchio. Besides several disc recordings; Italian Radio and Television, the Vatican Radio, Radio and Television of Portugal and several national and international state networks, have broadcast the Ensemble's concerts.